Katia Saavedra
Founder & FEVA Co-Director of Coaching
Katia believes that developing an all-around player is essential to each individual's progress. Talent is not the only quality needed to become an outstanding athlete, one must be coachable, open to change and disciplined. Most importantly, they must become a teammate able to bring the best out in everyone around them through example, energy and encouragement.  Katia has three children, who all play volleyball and she instills these values in them as she does to every player in the club.
She has coached volleyball for 29 years.
She played at University of Tampa 1990-1994
All-American setter 1993 and 1994
Owner of Club Tampa Volleyball which later became Sandspurs Volleyball Club
Owner and Director of Sand Life Volleyball
Katie Fashbinder
Assistant Coach
My hope is for the girls to come together and build their skills both individually and as a team. To always work hard and learn something new each time they are on the court. To build a personal strength and a never give up attitude
Madison Seuseneau
Head Coach
Tina Danielson
Head Coach
My goal is for my players to learn new techniques for volleyball and life each season. It's important to me they have fun while playing aggressively and want to continue playing. I don't tolerate walking or laziness, but I do encourage the heck out of them. My players trust me with coaching but also with caring about them as players, team members, individuals and humans.
4 year starter-captain at Morningside in Sioux City, Iowa.
All-Conference
Academic All-American
Conference Champs
William "Bill" Kruppa
Assistant Coach
My hope for all of our FEVA team is to develop in each player the skills and joy of playing the greatest game on earth.
District Champions Ladies Varsity Volleyball 2009-2012
Northern California Ladies Varsity Volleyball 2nd place 2011
Gabby Collison
Assistant Coach
Kenneth Brown
Assistant Coach
Renee Thompson
Head Coach
Austin Kopenski
Head Coach
Georgia Parson
Assistant Coach
Fernando Saavedra
Founder, Co-Director of Coaching
Davis Lauderdale
Club VP & Communications Director
Davis is the FEVA Communications Director. He understands fully the unique challenges facing parents and players and works to eliminate miscommunication and coordinates with parents to each team at FEVA runs smoothly. As a successful business owner, photographer / videographer he understands the value of great communication and how that can make or break a club.  
Jennifer Palacios
Head Coach
I have loved volleyball from the moment I stepped foot on the court for the first time many moons ago. My hope is to share my love and knowledge of the game to those I coach. I had the opportunity to play at the collegiate level, however, I decided to join the military at the age of 17 and have been serving in the US Army ever since. Having a military background I feel it is important to teaching discipline both on and off the court. I strive to communicate consistently with both players and parents giving feedback along the way. My expectations are simple. I will show up and give my all as a coach and I expect the same from my players. Show up and give me your all in both practices and games. Individual performance is important but more importantly is how we work together as a team. Teamwork and positive attitudes are the keys to a successful season. Success can be measured in wins and losses but I measure our success as a team by how much we have improved over a season and did we have fun getting there. I will support each of my players on an individual basis meaning if you want to play at the collegiate level or just play for fun, I will help guide you on whatever path you choose.
Jenna Benchikh
Head Coach
Volleyball is a sport I whole heartedly believe in because it teaches valuable lessons in teamwork, competition, character and mental agility. Most importantly, it fosters relationships and bonds that often last a lifetime.
My goal as a coach is to build confident, competitive young leaders that possess physical ability, outstanding character and a love of this great game!
Bloomingdale High School Volleyball (lettered all years); Senior year – lead team to win district championships.

Selected Western Conference First Team

Awarded Leadership and Dedication Award as well as Coaches Award.

Ice Sports Forum Player of the Week

Under direction of Taylor Mott, received a volleyball scholarship to Flagler College.

Won First Annual Queen of the Beach for Flagler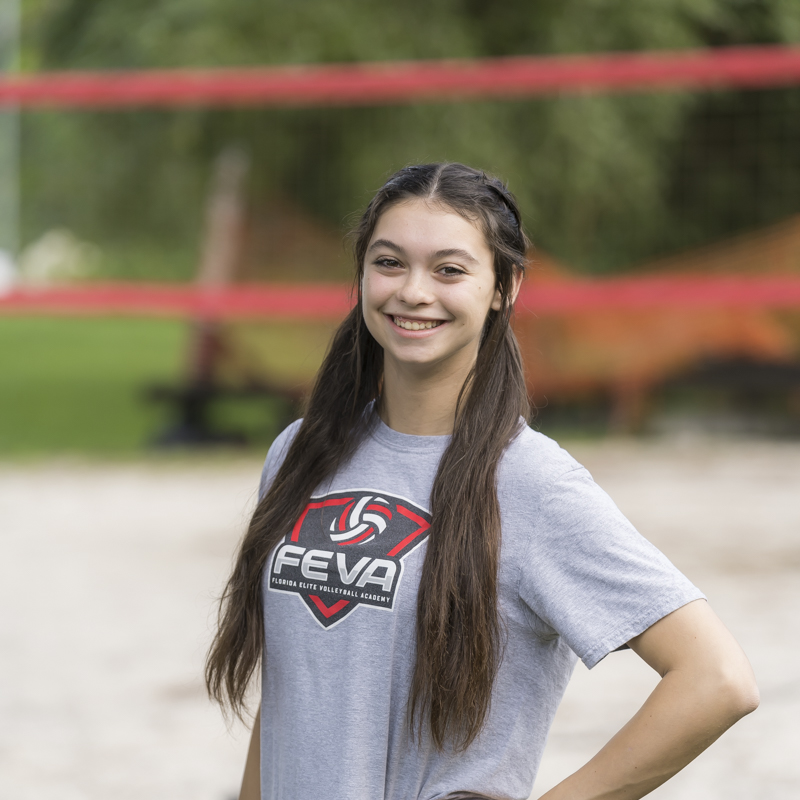 Lilly Moneymaker
Assistant Coach
Brittany Collison
Head Coach
My hope for all of my players is to create a lifelong passion for volleyball. I believe that hustle, dedication, and positivity makes for a well rounded athlete. In order to be successful as a team, I believe that teammates need to encourage each other to be the best versions of themselves both on and off of the court.
Played both Soccer & Volleyball at Eastern Florida State College 2012-2014

Coach of the year- SAC East Pasco county in 2020 & 2021

District champs- 2021 Wesley Chapel High

Elite 8 – Wesley Chapel HighVolleyball (First time in school history)
Carlos De Jesus
Assistant Coach
Stephen Gordon
Head Coach
My goal is to help our young ladies develop the physical, mental, and emotional stamina along with the leadership skills needed to deal with challenges both on and off the court. Through repetition and game situation training, I challenge my players to work together and succeed both as individuals and a team in any scenario. I expect 100% from my players at all times and they should expect the same from themselves and their teammates.
Every Play, Every Match, Every Day
(Including practice)
Assistant Coach for Junior Nationals qualifying team-2022
Caroline Miller
Head Coach
Throughout the season, there are many ways for an athlete to grow. My hope is that, from start to finish, the girls strive to be the best version of themselves both on and off the court. Through playing, there is a lot to learn and a lot of challenges; adapting to new people and positions, learning how to be a team player, communication skills, dealing with different personalities, and for some, overcoming their own battles personally within themselves. Just remember, Be selfless, not selfish.
As we kick off this season, especially once you get to know me as a person and a coach, I will be the girls number one cheerleader on the bench! There are times You will see me jumping up and down; maybe will even look like I'm ready to hop on the court. There are times where I will be more stern, but know it comes from a good place. I expect for the girls to have a memorable and enjoyable experience while learning and being serious when the time comes. At any age, I strive to be open and honest, pushing them outside of their comfort zone, making the decisions I feel are best for the team as a whole.
I am excited for what is to come this season, and to everyone… play hard, have an open mind and WELCOME TO THE FEVA FAMILY!
NCCAA Nationals – Qualified (2nd place) – 2015-2019 (collegiate level)
Robert Dodson
Head Coach
I hope to bring entertainment and joy to the sport I am passionate about. I want players to love the experience while learning; discipline, work ethic, and skill.
15 years varsity coaching experience
5 time district runner up
1 district title
2 x HS Coach of the Year
2 x  JV Undefeated Regular Seasons
Elyse Garcia-Zapata
Head Coach
I would consider my coaching style hands on and involved with my players. I want to make sure they understand what I'm asking for and the expectations I have with each and everyone of them along with what I expect out of them when it comes to team work. I hope to be able to instill a gritty, hardworking play style when they're on the court. I appreciate tenacious players who hustle and are willing to do more to ensure that the team earns success. Aside from being serious on the court, I want my players to learn to enjoy being coached hard and then understanding that we can laugh and joke off the court. It's important that I'm helping develop the "compete person" as well as the complete volleyball player".
Sunlake High School District Champion
High School Regional Finals.
Sunlake High School Success Through Regionals (Each Year of Tenure)
Earned a Bid to Nationals with U18 team.
Jenny Rinck
Assistant Coach
Marie Liz Beltran
Assistant Coach
Shameka Colvin
Assistant Coach
Ricky Thompson
Assistant Coach